In case you missed the announcement (I'm not sure how you could have!), Adele has returned with a brand new album after a 4 year hiatus! Much to an incredible amount of excitement! Hello – the debut single from the album, came close to breaking the internet with the video crossing 100 million views on YouTube in just 5 days!
So let's come back to the album. Titled 25, it got record-breaking sales within the 1st week, breaking the record for the fastest selling album in the UK ever! Quite a wonder as Adele refused to release the album to streaming services. And they say no one buys music anymore…!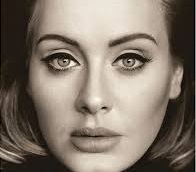 The album was released a couple of months ago, so why am I only talking about it now? Well, I had to hold off on buying it for a few months so I could request it for Christmas. My siblings struggle on what to buy me, I'm just not a very materialistic person I guess so I held out on this and Coldplay's new album to give them a few options!
So what's the verdict? It takes me a few listens to get into an album so I need a bit more time to digest it, but already there are a few tracks I really love! 'When We Were Young' jumped out at me instantly! And it's not often that happens to me. I listened to tracks 1, 2, 3, and then got to 4, then hit rewind, hit rewind, hit rewind again, let's just say I stayed there for a little while before continuing with the rest of the album. Another track I instantly loved was 'Million Years Ago'. The stripped-back vibe, lyrics, and just everything about the track is perfection for me.
I watched a replay of a live performance she did recently called Adele at the BBC and it made me excited to hopefully catch her live soon!
I can't wait to spend some more time with this album, I already feel I'm going to love it every bit as much as I loved her 21 album. Yep…Adele is well and truly back!